What to do if you receive an error that says "The share is expired."
If you receive an error in your Streaming account that says "The share has expired" follow the steps below to expand the limitations on the shared link.

1.) Log into your WAVE Streaming account, and click on Shared Course Links under Courses on the Dashboard.

2.) Use the Filter to search for the course which is giving the error. Once you have found the course, check to see if the Expiration date of the Shared course is valid and if the Max Video View Count has been reached.

Note: These parameters have been set up so you can budget your company's view count. Follow the instructions below to adjust the Expiration date and Max Video View Count.
3.) To adjust the parameters for a shared video, select the Edit icon next to the course.

4.) Change the Expiration date on the shared link and the Max Video View count to your desired amount. Click Save to continue.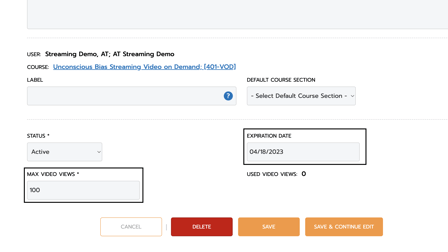 5.) To update more than one course, use the selection box next to the courses on the Shared Course Links page to select all the videos you would like to update.

6.) Using the dropdown menu, select Mass Update Shared Courses and select Submit.

7.) Enter the new Expiration date and Max Video View and select OK to save.
"If you need further assistance after reading this article, please submit a ticket HERE and someone from our team will assist you soon!"
Related Links:
If you need help making a shared link, please click HERE.