Steps to troubleshoot a learner whose course will not save their score.
1.) Go into Course Results and see if this error is happening to all learners who have taken the course. If the error is unique to just one learner, it might be an issue with the way the learner closed out a course.
2.) Make sure the learner is closing out their course correctly. Have the learner open their account and the course that will not save.
3.) Confirm the user has completed and passed the Final Test and watched all content. Select the Return to LMS button in the top right corner.

Note: Learners will often close the tab which does not give the LMS the time to register and save the score. This will lead to a incomplete report in Course Results until the course is successfully closed out.
4.) Once the course saves, there will be a confirmation page that appears. Select Close Section to save the course and return to the LMS.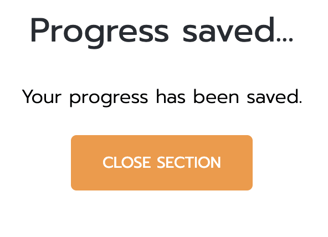 "If you need further assistance after reading this article, please submit a ticket HERE and someone from our team will assist you soon! If you would like to schedule a Tech Support meeting please book a meeting HERE."