Need to re-enroll your users in past completed training? Did a user fail a course and need to re-take it? This article will walk you through how to do a re-enrollment step by step.
1. Begin on your "Dashboard" and select "Course Enrollments" under Manage Users, then select the "View List" link.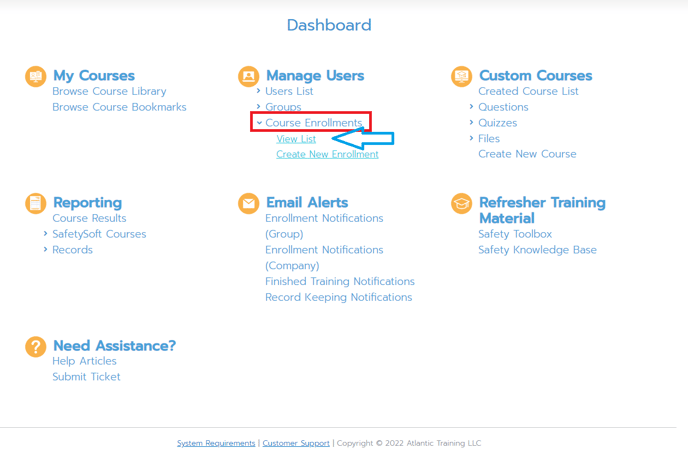 2. Select 'Enroll User'

3. Select the Users and the Courses
4. Review the Selected Users and Selected Courses. In order to re-enroll you must add an Enrolled From and Enrolled To date. These can be edited once again if the user needs to be re-enrolled in the future as well. If you do not have an Enrolled From date in mind please use today's date.

5. Under Enrollment Options select Change Existing Enrollments. Next select Update 'Enrolled From' and/or 'Enrolled To' Dates, if you have updated the Auto Extend Options please select 'Update 'Auto Extend Options'. If you are not updating the Auto Extend Options please select Do Not Change.

6. Under Registration Options select Re-Enroll and then you are ready to review!

If you need to simply extend the "enrolled to" date on the enrollment whether the date has passed or you'd simply like to update it, please follow the directions HERE.
"If you need further assistance after reading this article, please submit a ticket HERE and someone from our team will assist you soon!"