Need to find out which format will work better for you and your LMS? This article shows you the difference between the two format types.
Video On Demand
Video On Demand or VOD files are delivered to you in the form of embedded links, which are easy to install into any medium. Whether it is your Learning Management System, a spreadsheet, or even an e-mail, your employees will be able to access the training materials anywhere they have an internet connection.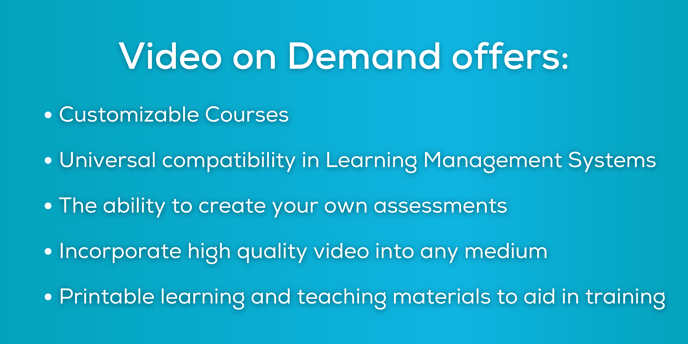 If you would like to see if VOD files can benefit your training program, feel free to copy and paste this whole test Embed link into your LMS. Printable Teaching aids will be available with courses post-sale.
Embed Link: <iframe width='720' height='480' src='https://wave.atlantictraining.com/share/P5HB-5C42-BHXC?embed=1' style='max-width:100%' class='waveshare' frameborder='0' allow='accelerometer; autoplay; encrypted-media; gyroscope; picture-in-picture' allowfullscreen></iframe>
SCORM Files
SCORM files are pre-built, off-the-shelf courses that are ready to begin training as soon as you load them in! They have knowledge checks throughout the program as well as a graded quiz at the end. SCORM courses are not customizable.
SCORM Files offer:
Pre-built interactive courses
Compatibility in any SCORM 1.2 compliant LMS
Graded quizzes
Pre-set passing scores


If you would like to give a SCORM course a trial, feel free to download this test course from the following link. Follow the directions from your Learning Management System to upload the course, and see how it works for you.

"If you need further assistance after reading this article, please submit a ticket HERE and someone from our team will assist you soon!"
Related Links:
Need to know how to access your VOD account? Check out this article HERE
If you need assistance downloading any SCORM dispatches check out this article HERE
Have a streaming account and need to access the materials? Check out this article HERE